This project has unfortunately stalled. If you are interested in restarting it, feel free to contact us under diybio@fablab.fau.de or kontakt@fablab.fau.de.
This project-page will be updated with the progress of our workshop series.
We have created a mailinglist in order to communicate. You can find it under diybio@fablab.fau.de. (Just write an email to diybio-subscribe@fablab.fau.de in order to subscribe to this list.)
The workshop will be documented in a hackmd-note.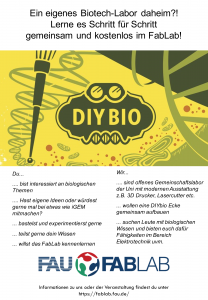 Biologic systems are amazing, but working with them is mainly limited to high-tech labs of universities or industries. This happened about 40 years ago with one technology which we all don´t want to miss in our life: Computer.
Having this technology democratized and to be found in almost every pocket is owed to creative and passionate people with a maker and hacker attitude. So now, why not biology?
Let´s think and discuss how "personal biotechnology" could look like in 5 to 20 years from now. But we would not be a FabLab if we would not aim on actually tinkering and building something. Therefore, the declared goal for the workshop is also to build devices in a DIY style. Doing so we will use and get inspired by the existing DIY plans of the worldwide community. In the best case we would like to use the devices made during this workshop series in little experiments or silly test cases like e.g. what meat is in my Mensa schnitzel.
Don´t expect a completely planned workshop, because we want to decide together during the first session what is our common interest and then just start. We will provide the necessary frame for this, support in technical issues and inspire as much as possible.
So let´s get part of this worldwide movement, hack biology and build cool stuff together!
Christian & Patrick